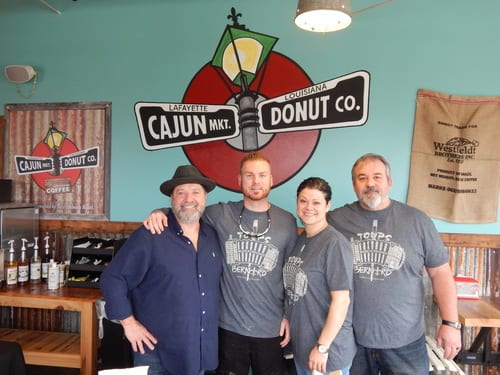 LOCATED IN THE HEART OF CAJUN COUNTRY,  LOUISIANA, CAJUN MARKET DONUT COMPANY OFFERS FOUR LOCATIONS IN THE ACADIANA AREA.
Cajun Market Donut Company burst onto the scene in March 2014, armed with fresh ideas, a new concept, and tons of Cajun flavor we decided to create a new twist on the long established donut franchise. (Pictured below left to right: Wayne Toups, Nathan & Kayla Liebert, and Tony Bernard at the grand opening of the Rue Louis XIV location)
Staying with the flavors that made him successful, Cajun Market Donut Company still offers all the classic variety you would expect from a donut shop.  From melt-in-your-mouth glazed donuts to cinnamon rolls to red velvet cake donuts, Cajun Market is sure to have the sweet treat you're craving.
THROW ME SOMETHIN' MISTER!
It's Mardi Gras all year long at Cajun Market Donut Company!  From January thru Mardi Gras, Cajun Market offers king cakes made fresh daily.  The rest of the year king cakes can be ordered (24 hour advance notice) for any occasion in your choice of colored icing and filling.  Great for birthday parties and holidays!
WE AREN'T JUST DONUTS
Things get spiced up in the mornings at Cajun Market Donut Company.  Offering kolaches (Pig-in-a-blanket to you Yankees), Cajun Stuffed Breads, and our NEW Signature Donut (to be named later once we come up with something witty and clever), Cajun Market is certainly ready, willing, and able to beat down your morning hunger.